The local organizing committee of SBRC 2010 has selected some of the best hotels in the Gramado and Canela area to offer to attendees. Lodging options are separated into Official Hotel of the Symposium, Partner Hotels, Hostels, and Other Hotels. See below for options and choose the lodging of your preference.
Official Hotel of the Symposium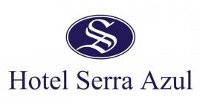 The Hotel Serra Azul is the official hotel of SBRC 2010. Located in the central part of Gramado, near the main attractions of the city, only 800m away from UFRGS Convention Center (10 minutes walking).
Hotel Serra Azul offers breakfast included in rate, wireless Internet, heated pool, games room, dry and wet sauna rooms, fitness, kids recreation, and typical gaucho's place.
See below the rates offered especially for the participants of SBRC 2010. Reservations can be made by e-mail This e-mail address is being protected from spambots. You need JavaScript enabled to view it or by phone +55 (54) 3295-7200, with Mrs. Rose. For more information visit http://www.serraazul.com.br.
Prices

Room
Single


Double



Standard

R$ 150,00

R$ 170,00

Type

R$ 170,00
R$ 190,00

Type Superior

R$ 190,00

R$ 210,00

3rd bed (only in the categories Type and Type Superior): R$ 120.00
Parking: R$ 5.00
The hotel charges 10% of tax on all services, plus R$ 2.00 per day as Tourism Tax.

Partner Hotels
It follows the list of partner hotels of SBRC 2010. These hotels offer special conditions for the participants of the symposium. Reservations must be made by contacting directly the hotel of your choice by phone or e-mail. Do not forget to inform that you are participating on SBRC to have access to the rates presented in this site.
The values of accommodation listed here are for standard apartments (or similar category) that the partner hotel offers. For information on other types of room, please contact directly the hotel. Make your reservation as soon as possible as vacancies with these fares are limited. Although the organization of the SBRC has negotiated discounted rates for its participants, a given hotel may offer in its site (or via travel agency) fares even lower.



Lodging



Distance

Single


Double



Triple
Hotel Glamour da Serra
900m
R$ 105,25

R$ 134,60

R$ 193,30

Pousada Vovó Carolina

1500m

R$ 115,00

R$ 145,00

R$ 187,00

Pousada Recanto da Lua

1800m
R$ 110,00
R$ 120,00
R$ 150,00
Hotel Pousada Kaster

2600m
R$ 130,00
R$ 170,00

R$ 200,00
Hotel Bavária
1900m
R$ 140,00

R$ 170,00

R$ 210,00
Hotel SKY*
2600m
-
R$ 115,00

R$ 170,00
Hotel Galo Vermelho

4500m
-
R$ 90,00
R$ 135,00
Hotel Continental Canela

7000m
R$ 140,00

R$ 160,00

R$ 230,00


* Charges 10% of tax on services.
Hostels

The Gramado Hostel offers shared rooms at a price of R$ 35.00 per day per person and private rooms (minimum two people) at a price of R$ 45.00 per day per person. The hostel is located 2700m from the convention center, offers breakfast, parking, kitchen, laundry and Internet. To make your reservation at Gramado Hostel contact by e-mail This e-mail address is being protected from spambots. You need JavaScript enabled to view it or by phone +55 (54) 3295-1020. Do not forget to mention the following information to ensure the discounted rates: Member of the event SBRC 2010.
The Hostel Viajante, located in the center of Canela, 8100m from the convention center, offers shared rooms at a price of R$ 30.00 per day per person and private rooms at a price of R$ 40.00 per day per person. These rates include the breakfast. To make your reservation please contact by e-mail This e-mail address is being protected from spambots. You need JavaScript enabled to view it or by phone +55 (54) 3282-2017. Do not forget to mention the following information to ensure the discounted rates: Member of the event SBRC 2010.
Other Hotels
Mapa
The local organizing committee of SBRC 2010 prepared a map with the localization of the hotels and the convention center, click on the image to visualize:
Label:

-

UFRGS Convention Center




-

Official Hotel of the Symposium




-

Partner Hotels




-

Hostels




-

Other Hotels